Overview
Users don't want to spend a lot of time wading through an overwhelming amount of information while researching day trips. DayTripper simplifies the process, providing all the information users need in one place, giving users confidence in their choices. The app also provides logistical support, helping users to follow through on their planning.
Project Duration
September – November 2014
My Contributions
Concept
Research
Interaction design
User testing
Wireframing
Prototyping
Process
Research
I began this project by researching how people plan vacations. After conducting a survey and analysis, I focused on developing an application to help users with transportation problems, which users had cited as a prominent issue.
User testing with paper prototypes for the initial product, TransitPlanIt, showed that users did not find value in it.
"I'd go to Google Maps!" — one user's comment
But, users gravitated toward one feature — the ability to find day trips.
Users wanted day trip planning, not transit planning. So, I changed the focus of the app based on this finding.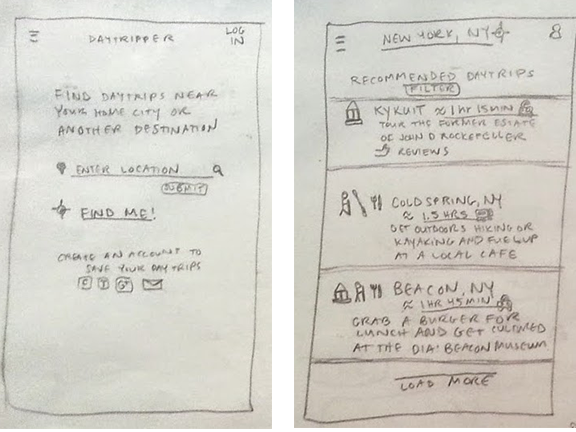 Competitive Analysis
Although competitors provided broad information about a destination or offered the ability to find and book specialized tours, they didn't provide users with specific information about day trips that they could organize on their own.
Target Audience
Users are locals looking for day trips from their home cities or travelers with extra time seeking a day trip outside of their primary destination.
Usability Testing
Two rounds of usability testing evolved the app experience into one that users felt offered great value, especially with the feature that allowed users to buy tickets ahead of time and store them in the app. Users also expressed that more destination information was needed, and in a clearer format.
Conclusion
Users want day trip planning, not transit planning.
After testing, I revised the wireframes and final prototype to show more robust information for day trip destinations.
Development would require reaching out to businesses for partnerships, and sourcing content and reviews from well-known sites to increase users' trust of the app's information.